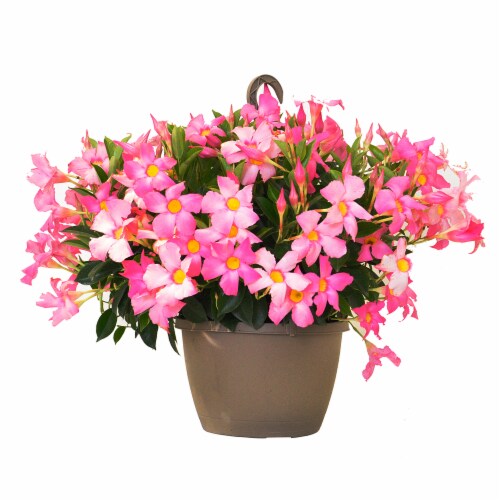 Hover to Zoom
Mandevilla Hanging Basket Plant - Pink (Approximate Delivery is 2-7 Days)
10-inch pot
UPC: 0081005417812
Product Details
The Mandevilla Hanging Basket produce Pink flowers that span 3 in. to 4 in. and create an elegant tropical look. Natural climbers, these beauties are stunning in a hanging basket or in patio pots. Nothing says summer like Pink Flowers. Hang these lovely plants in your patio, outside garden or poolside and create a tropical paradise. Mandevilla's enjoy light and heat and perform best in warm temperatures between 70° to 90° and high direct light levels.
Mandevilla needs to be planted in full sun in order to flower well. It will tolerate a range of soils, as long as the soil is well drained. Mandevilla needs to be watered and fertilized regularly. Plants help decrease stress and anxiety while stimulating creativity and productivity. Great for yourself or as a gift!
Pink flower blooms - nothing says tropical living like this Mandevilla which puts out colorful trumpet-shaped pink blooms along its woody twining stems.
We do not ship to California, Arizona, Hawaii, Alaska or Puerto Rico. We do not recommend shipping to extremely cold weather states.
Mandevilla's grows best in warm tropical climates with high levels of humidity and moisture
Hardy in. U.S. department of agriculture plant hardiness zones 10 and 11 they require full sunlight for at least 6-hours per day.
---