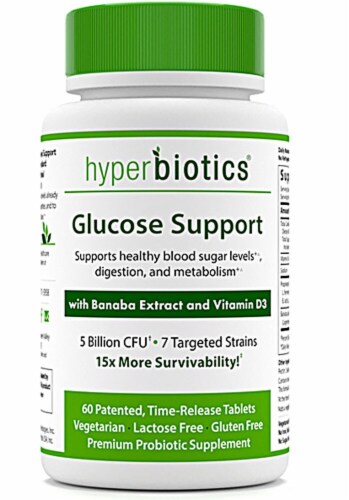 Hover to Zoom
Hyperbiotics Glucose Support Probiotic Supplement Tablets
Product Details
Maintain Blood Sugar Levels Already Within A Normal Range. One of the biggest health concerns of the American public today, affecting roughly 30% of us, is how to maintain blood glucose levels in a healthy range. Last year, a German Diabetes Center clinical study found that daily ingestion of Lactobacillus reuteri SD-5865 (the strain present in Hyperbiotics Glucose Support) in a BIO-tract® time release tablet promoted optimal glucose and insulin levels in participants. In this randomized, double-blind, placebo-controlled study people taking the L. reuteri had increased glucose-stimulated insulin secretion by 49%, C-peptide secretion by 55%, GLP-1 release by 76%, GLP-2 release by 43%, and altered beta-cell function relative to people taking the placebo. The study article was published online along with supplementary data, at the American Diabetes Association (ADA) Diabetes Care website in June 2015, doi: 10.2337/dc14-2690. The referenced presentation was made at the 72nd Scientific Sessions of the ADA.
Manage Your Oxidative Stress. Evidence suggests that antioxidant activity is lower and oxidative stress is higher in those of us with blood sugar concerns. The targeted probiotics in Hyperbiotics Glucose Support have been studied to support antioxidant activity helping to put you on the path toward optimal health, naturally.
Support Your Metabolism. Studies show that people with a less diverse set of gut bacteria are more likely to have weight and metabolic issues. This formula was designed with 7 well-documented probiotic strains to help you get your gut back into equilibrium.
Hyperbiotics Glucose Support helps restore beneficial bacteria to support digestive and immune health and helps address gas, bloating, and irregularity. Life should be easy.
*These statements have not been evaluated by the Food and Drug Administration. This product is not intended to diagnose, treat, cure, or prevent any disease.
---